Trinity Estates Homes For Sale in Rio Rancho NM.

Trinity Estates is an exclusive neighborhood in the always growing Rio Rancho NM. The
community was primarily built between 2001' and 05'. Many builders were involved with the Trinity Estates Homes For Sale project with Tiffany being a strong contributor. However many well known custom builders like Mayhew, New Vistas, Corinthian, Davis and others built some gorgeous masterpiece homes within the Trinity Estates community.

Perfectly located Trinity Estates in Rio Rancho sits up on a bluff just above the charming community of Corrales and those lucky enough to have a home sitting on that bluffs edge have some outstanding Corrales, Sandia Mountain and Albuquerque city light views. The Trinity Estates neighborhood is just east of Intel the well known chip maker and major employer of Rio Rancho (The City of Vision). Just off Hwy 528 (Rio Rancho Blvd aka Pat D'Arco Hwy) and Sarah Rd commutes are a breeze with Albuquerque city limits just a mile South.
Trinity Estates Homes For Sale in Rio Rancho NM Neighborhood Map.

Trinity Estates Homes For Sale in Rio Rancho NM vary considerably in size, style and price range. At time of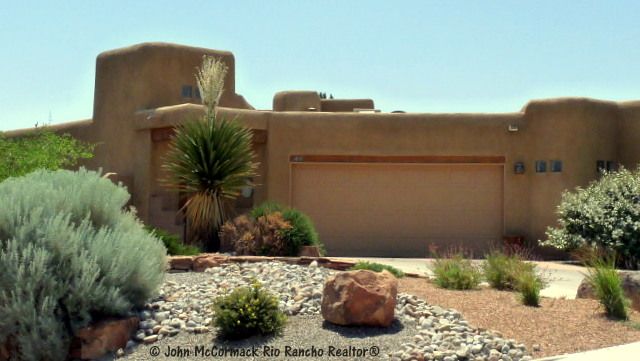 publication homes were ranging from a 1415 sq.ft model with 3 bedroom, 2 bath at an asking price of $180,000. At the top of the range a 3636 sq.ft, 5-6 bedroom, 4 bath priced at $400,000. The average price of the 8 available homes was $282,450. Continue to watch this blog and AlbuquerqueHomes.com for upcoming Trinity Estates Homes For Sale Market Reports. Trinity Estates in Rio Rancho has traditionally held values a bit better than values of nearby subdivisions.

Rio Rancho Public Schools provides public education for children residing within Trinity Estates in Rio Rancho NM while some private schools and charter schools are nearby.

Shopping, entertainment, restaurants, medical facilities and and sporting events are all prominent and easily accessible to the Trinity Estates Homes For Sale and Rio Rancho neighborhoods. Two new hospitals have just completed construction. Presbyterian Rust Medical Center and UNM Sandoval Regional Medical Center.

If you or someone you know is considering the purchase or sale of a Trinity Estates Home For Sale in Rio Rancho NM I would welcome the opportunity to be your select Realtor®
Please feel free to call, text or email with any questions or information you may need.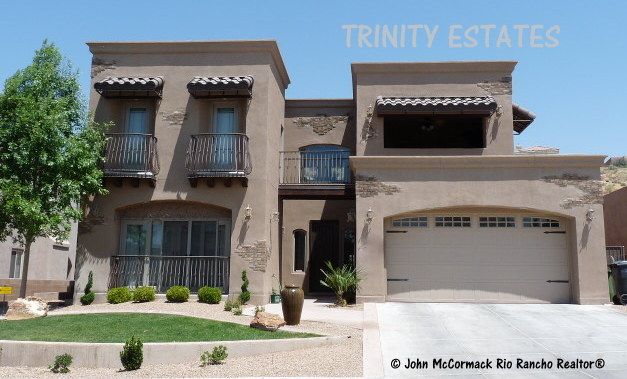 View Trinity Estates Rio Rancho New Mexico in a larger map*********************

Albuquerque Homes and Lifestyle Blog

********************************************************************************

John McCormack    Owner/Managing Broker,  e-PRO
505-980-4576 / John@AlbuquerqueHomes.com
Search Albuquerque Homes For Sale *  Search Albuquerque Homes & Lifestlye
If your considering Buying, Selling or Relocating  to Albuquerque or Rio Rancho, NM and need a Professional Realtor It would be my pleasure to help you!
Be sure to visit my AlbuquerqueHomes.com website for total access to all available homes in the following New Mexico communities:  Albuquerque, Rio Rancho, Los Ranchos, Placitas, Bernalillo, Tijeras, Sandia Park, Cedar Crest, Bosque Farms, Los Lunas & Belen.
Come On Back and Visit My