The Boulders subdivision in NW Albuquerque NM

The Boulders is a brand new subdivision now under construction.
The Boulders is very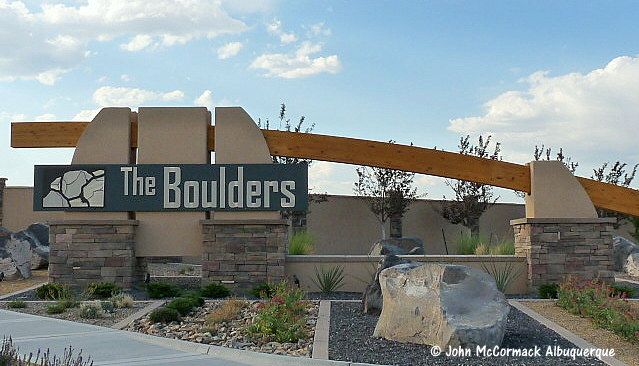 easy to find by traveling North on Unser off the new Paseo Del Norte extension or from Paradise Blvd South on the new Unser Extension. The Boulders subdivision is a Pulte Homes project offering two separate series with twelve possible floor plans and each of those with three different elevations options.
Current Homes For Sale in The Boulders.
If you are considering building a home or purchasing a pre-built home in The Boulders serioulsy consider utilizing your own Realtor® and buyer broker. The builder certainly has sales people on staff in their models to assist you and describe the various options and upgrades etc., however having your own representation should be wisely considered. The builder salesperson is truly working for and represents the builder and their best interest, so why wouldn't you have someone working for you and yours?

Will it cost me more to hire a Realtor® to represent me as a buyer? No - the builders knows that many buyers will have their own representation and have already included that additional overhead into the price of all their homes. The builder pays the commission to the buyer broker not you the buyer. This simply means you get representation without paying the fee. So don't go it alone, call me John McCormack 505-980-4576 so we can discuss what it is you're looking for in a new home, I can then help you select builders and communities that would be a best fit for you including The Boulders subdivision in NW Albuquerque NM.



Here is a breakdown of the homes offered in The Boulders subdivision of NW Albuquerque. The two series are as follows:

"The Pinnacle Series" priced from the $205's
"The Summit Series" priced from $169's.

Here are some of the available plans and starting prices. You will want to fully understand what a starting price is and what is inclusive of that price being options, upgrades etc. Currently avialable The Boulders homes for sale.

Granite Marble Quartz
Starting $169,900 Starting $179,900 Starting $189,990
1388 Sq. Ft 1550 Sq.Ft 1789 Sq.Ft
3 Bedroom, 2 Bath 3 Bedroom, 2 Bath 3 Bedroom, 2 Bath

Sandstone Emerald Shale
Starting $199,990 Starting $205,990 Starting $209,990
1964 Sq.Ft 1776 Sq.Ft 2149 Sq. Ft
3 Bedroom, 2.5 Bath 3 Bedroom, 2 Bath 3 Bedroom, 2.5 Bath
2 Story 2 Story 2 Story

Garnet Jade Travertine
Starting $212,990 Starting $219,990 Starting $219,990
1896 Sq.Ft 1972 Sq.Ft 2397 Sq.Ft
3 Bedroom, 2 Bath 3 Bedroom, 2 Bath 4 Bedroom, 3 Bath
Single Story Single Story 2 Story

Onyx Ruby Sapphire
Starting $229,990 Starting $239,990 Starting $249,990
2312 Sq.Ft 2508 Sq.Ft 2734 Sq.Ft
3 Bedroom, 2.5 Bath 3 Bedroom, 2.5 Bath 4 Bedroom, 3.5 Bath
2 Story 2 Story 2 Story
The street names at The Boulders are all appropriately named for this great subdivision that is literally built on ancient volcanic boulders and earth. You could have an address on Monolith, Rock View, Boulder Trail, Stone Peak, Fossil, Slick Rock, Basalt Rock, Iron Rock or Dolomite.

If you have any questions about the The Boulders Subdivision or would like to see the available floor plans and options just give me a call I have those available and would be most happy to share. We can then go visit The Boulders subdivision in NW Albuquerque NM together.

Albuquerque Homes and Lifestyle Blog

********************************************************************************

John McCormack    Owner/Managing Broker,  e-PRO
505-980-4576 / John@AlbuquerqueHomes.com
Search Albuquerque Homes For Sale *  Search Albuquerque Homes & Lifestlye
If your considering Buying, Selling or Relocating  to Albuquerque or Rio Rancho, NM and need a Professional Realtor It would be my pleasure to help you!
Be sure to visit my AlbuquerqueHomes.com website for total access to all available homes in the following New Mexico communities:  Albuquerque, Rio Rancho, Los Ranchos, Placitas, Bernalillo, Tijeras, Sandia Park, Cedar Crest, Bosque Farms, Los Lunas & Belen.
Come On Back and Visit My