Oxbow Neighborhoods Albuquerque NM Market Report 1/1/12-5/31/12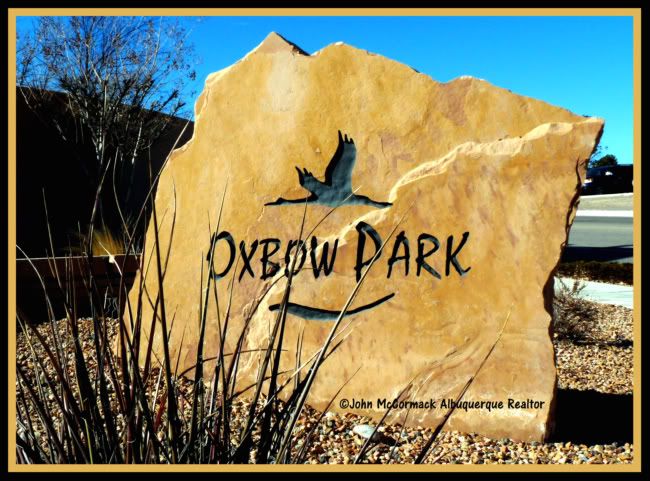 The Oxbow Neighborhoods in the NW Quadrant of Albuquerque are actually six defined neighborhoods. From Patio homes to Luxurious Hacienda type homes Oxbow offers a full range of home styles and price ranges.

Be sure to check out the Oxbow Neighborhood Profile page for an in depth look at each of these unique communities some with gated security and others not.


Currently there are 18 homes available Homes For Sale in the Oxbow Subdivisions.


Priced from a Low $199,900 to a High $875,000

Average price for the 15 listed homes is $434,223

The Median Price shows $341,806

Average Days on Market (DOM) 149
The smallest home is 1,520 Sq. Ft

Largest available home is 4,600 Sq.Ft

Average Size Home for sale 2,735 Sq.Ft

There are 3 Homes currently Pending under contract. One of these is a Short Sale


Asking price at time of contract. Low $300,000 to High of $1,200.00

Average price of the 3 homes $730,000

Average Days on Market 521 (The high DOM was 1041)

Smallest Pending Home is 2,014 Sq. This is the Short Sale

Largest Pending Home is 7,700 Sq.Ft

Average Pending Home is 4,199 Sq.Ft (Much greater than the typical home in Oxbow)

4 Homes in the Oxbow Neighborhoods are listed at Sold and Closed since January 1,2012


Lowest Price Sale $232,000 to High Sale of $749,000

Smallest home sold 1,836 Sq.Ft

Largest Home Sold 4,968 Sq.Ft

Average Size of Sold Home 3,247 Sq.Ft

Average DOM 371 with a High DOM of 1216 and Low of 22

If you are considering the Oxbow Communities and HOA there are many options of sizes, styles and price ranges to fit your specific needs. Oxbow is in a great NW Location and commutes over the river are quick and easy. This is a market snapshot only and does not replace a full market analysis for any home in the Oxbow neighborhoods. Contact a Realtor® or Appraiser to conduct a CMA of your home.

Please feel free to call me John McCormack with any questions you may have or to set up a time to view any Oxbow home for sale or to set up a market analysis of your home.
John@AlbuquerqueHomes.com 505.980.4576 www.AlbuquerqueHomes.com



Albuquerque Homes and Lifestyle Blog

********************************************************************************

John McCormack    Owner/Managing Broker,  e-PRO
505-980-4576 / John@AlbuquerqueHomes.com
Search Albuquerque Homes For Sale *  Search Albuquerque Homes & Lifestlye
If your considering Buying, Selling or Relocating  to Albuquerque or Rio Rancho, NM and need a Professional Realtor It would be my pleasure to help you!
Be sure to visit my AlbuquerqueHomes.com website for total access to all available homes in the following New Mexico communities:  Albuquerque, Rio Rancho, Los Ranchos, Placitas, Bernalillo, Tijeras, Sandia Park, Cedar Crest, Bosque Farms, Los Lunas & Belen.
Come On Back and Visit My