Welcome to the Mirador Subdivision in NW Albuquerque NM 87120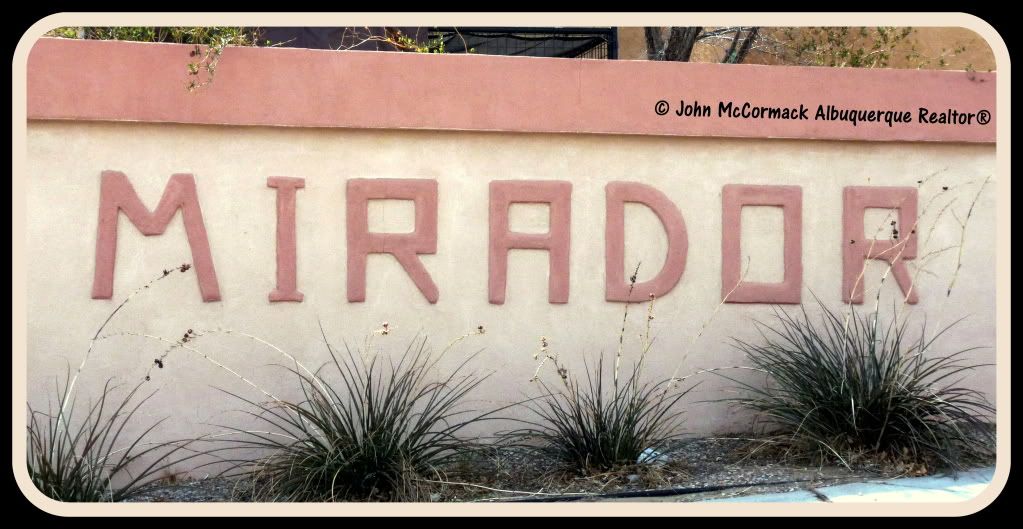 The Mirador Subdivision in NW Albuquerque NM 87120 is a small community of approximately 65 homes. The build project began back in 2002' and finished in 05'. Mirador is a combination of patio homes and larger two story homes all built by Virgil Gil. Homes sizes range from the smallest 1300 sq.ft 3 bedroom, 2 bath patio home to a much larger 2700 square foot 4 bedroom, 3.5 bath home.

Check here for current homes for sale in Mirador Subdivision NW Albuquerque.

When Virgil Gil offered these Mirador homes he did something a bit different than other
competing builders of that time, he offered his customers options in order to personalize each home with the distinctions that clearly set it apart from others. A southwest theme is prevalent but not a constant. You will find homes with raised ceilings, exposed vigas, kiva style gas fireplaces, nichos, ceramic tile, granite and glass block accents. Many of the two story homes in Mirador offer balconies off the master suite with incredible mountain and city views.

The commute from the Mirador Subdivision in NW Albuquerque is a snap whether one works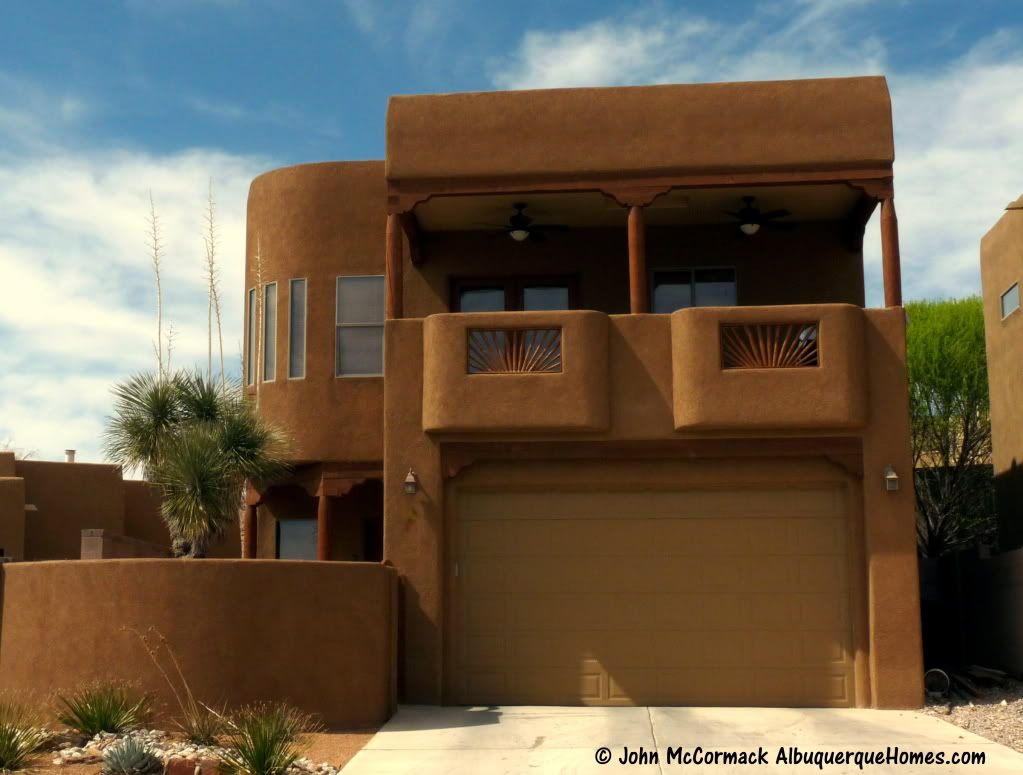 on the west side or east side. The Montano bridge, I-40 or Paseo Del Norte river crossings are all easily accessible providing needed options on those busy morning and evening commutes.

Mirador is conviently located at the intersection of Dellyne and Coors Blvd NW. (See Google Map Mirador)There is a small business complex within Mirador with several conveniences including The Salsa Grill, Golden Shears Salon, Dominos Pizza, Westside Eye Care and Hearing Health Care to name a few. Major shopping is a quick trip to the Montano/Coors corridor or north to Cottonwood Mall.

The Mirador Subdivision in NW Albuquerque 87120 is serviced by Albuquerque Public Schools (APS) The following districts apply. Volcano Vista High School, Lyndon B Johnson Middle and Chaparral Elementary. There are two private schools very close by. St Pius High and Bosque School.

Hikes through the Bosque cottonwood forest and Petroglyph National Monument and easily accessible and if you love to bike or jog Albuquerque is famous for the abundant bike trails in pristine condition throughout the city.

Real Estate for sale in Mirador NW Albuquerque.




View Mirador Subdivision NW Albuquerque 87120 in a larger map
Albuquerque Homes and Lifestyle Blog

********************************************************************************

John McCormack Owner/Managing Broker, e-PRO
505-980-4576 / John@AlbuquerqueHomes.com
Search Albuquerque Homes For Sale * Search Albuquerque Homes & Lifestlye
If your considering Buying, Selling or Relocating to Albuquerque or Rio Rancho, NM and need a Professional Realtor It would be my pleasure to help you!
Be sure to visit my AlbuquerqueHomes.com website for total access to all available homes in the following New Mexico communities: Albuquerque, Rio Rancho, Los Ranchos, Placitas, Bernalillo, Tijeras, Sandia Park, Cedar Crest, Bosque Farms, Los Lunas & Belen.
Come On Back and Visit My